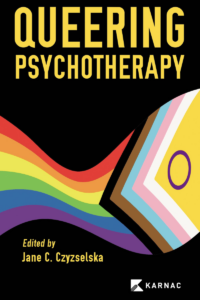 Jane Chance Czyzselska invites us to face the uncomfortable truth that the psychotherapy profession is influenced by colonial history and culture as well as which are unhelpful at best and harmful at worse for queer people.
Czyzselska decided to have a conversational style for the book, a refreshing new way of reading and learning from a textbook. They mention that they would have loved to read a conversational book when they were training. Indeed, another criticism of the psychotherapy field is that it is filled with books that are written in convoluted dry styles only to showcase how clever the author is rather than the textbook being helpful. It is clear that one of Czyzselska's passions for the profession is approaching it from a social justice frame. Their ideas on queering psychotherapy are not only to focus on queer people but also to thoroughly decolonise psychotherapy, not leaving any stones unturned in the process.
This book is a tour de force in offering meaningful food for thoughts to the readers on how colonial history and culture have influenced the field of psychotherapy, and for many years, without being challenged.
Queering Psychotherapy invites us to think deeply about intricate subjects in a beautifully nuanced manner. For example, how our antithesis can be valuable learning opportunities or how the 'authentic self' concept can damage the trans community. I particularly appreciated the refreshing honesty from Meg-John Barker in Chapter 4, explaining how heteronormativity hurts everybody, including heterosexual people and how queer people can hurt each other too, moving away from the binary notion of "them vs us".
The readers will be delighted with other topics often ignored in other psychotherapy texts. For example, it is fascinating to learn about the therapeutic work of certified sexological bodyworkers and to read about Intersex people's lives from their voices. Sex work is another taboo and misunderstood topic. Karen Pollock (Chapter 9) provides profound self-reflection on how easy it is to unduly pathologise sex workers if we don't have enough knowledge in this area. A simple yet powerful sentence is worth repeating loud and clear: "When you work with sex workers, their work has to be as relevant or irrelevant as the client finds it to be". I was enthralled with a phenomenal new take on supervision, termed "supra-vision". It was a joy to read Dominic Davies' pertinent opinions on navigating dual relationships, another topic psychotherapy training rarely ventures in, and leaving our colleagues unequipped in this area. This book allows us to dive deep in many fascinating topics relevant to Queer clients and practitioners, but, ultimately, helpful for everybody because Queering Psychotherapy is not only about the specific Queer populations. It's about the entire psychotherapy profession becoming more compassionate with the vast diversity of humankind. It is a highly recommended book for every psychotherapist at all levels.
Silva Neves, UKCP-registered and COSRT-accredited psychotherapist. Pink Therapy Clinical Associate. Author. https://www.silvaneves.co.uk/