From Neil Loffhagen and Jo Russell
There are many, many to choose from, and most of the good ones are by M J Barker, so we have tried to cover some breadth of material, and offer some recommendations.
(not in any particular order…)
Rewriting the Rules by Meg-John Barker
Routledge; 2nd edition (14 Mar. 2018)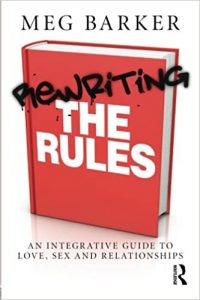 Do we really know how we have decided what is right and wrong in love, sex and relationships? This is a great book for considering the depths we have been socialised to follow largely unconscious rules. As therapists we need to interrogate our own assumptions and unconscious biases in order to support clients to live their best lives. Useful for self examination, as well as filled with ideas for inviting clients to challenge their own world view.
Available from Routledge.
Sexuality and Gender for mental health professionals by Christina Richards and Meg-John Barker
SAGE Publications Ltd; 1st edition (4 Nov. 2013)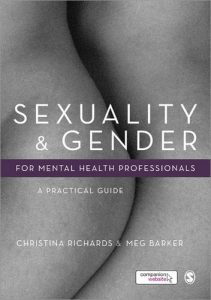 This helpful book covers a number of less familiar identities within GSRD work and summarises key issues, common concerns, key practices, as well as suggestions for professional practice with each identity. It is a great reference resource for those beginning to work with GSRD clients.
Available from Waterstones.
BACP guidelines for best practice with Gender, Sexual and Relationship Diversity by Meg-John Barker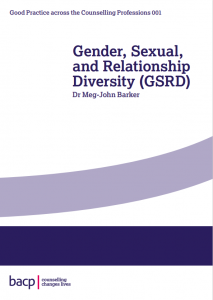 A comprehensive and trustworthy guide for best practice working with GSRD clients, clearly written and easy to navigate. One of the best free resources available to all.
Available free from BACP.
Memorandum of Understanding on Conversion Therapy in the UK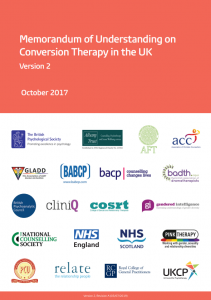 A summary of the commitments and agreements around ethical responsibility both for organisations and practitioners.
Read further explanation of conversion therapy, what it is, and its claims, effects and goals here.
Available free from COSRT.
Person-centred counselling for Trans and Gender Diverse People: A Practical Guide by Sam Hope
Jessica Kingsley Publishers (21 Aug. 2019)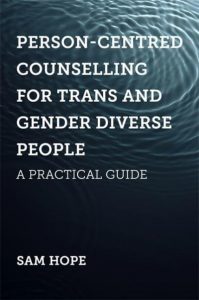 A wonderful book. Valuable to experienced counsellors, as well as those who have little or no experience with trans and non-binary clients. Practical suggestions of ways of working, plus pitfalls to watch out for. Very up to date with terminology too.
Available from Blackwell's.
Compulsive Sexual Behaviours: A Psycho-Sexual Treatment Guide for Clinicians by Silva Neves
Routledge; 1st edition (11 May 2021)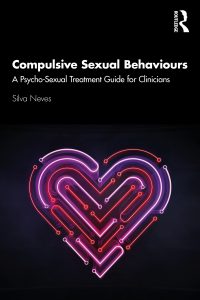 This comprehensive guide is deeply rooted in the science of sexology and psychother-apy, demonstrating why it is time to re-think the reductive concept of 'sex addiction' and move towards a more modern age of evidence-based, pluralistic and sex-positive psychotherapy. It is an important manual for ethical, safe and efficient treatment within a humanistic and relational philosophy.
This book will be an important guide in helping clients stop their compulsive sexual behaviours as well as for therapists to self-reflect on their own morals and ethics so that they can be prepared to explore their clients' erotic mind.
Available from Routledge.
Neil has a book list on his website which you may find useful.